Open Jam Session and Q&A with Jaerv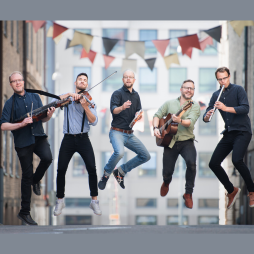 Open Jam Session and Q&A with Jaerv
Musicians of all levels are encouraged to join. Bring your acoustic instrument or enjoy as an audience member. Open jam will be followed by a Q&A with the artists. Jaerv is an innovative Swedish folk quintet with jazz and pop leanings who flawlessly blend original songs with stellar takes on captivating Scandinavian folk songs, some dating back 700 years.
For questions, contact Scandinavian Program Director Johanna Eriksson at johannae@umich.edu
East Quad, front lobby
06:00 PM - 09:00 PM on Tue, 4 Oct 2022
Event Supported By
Center for World Performance Studies
CWPS.Information@umich.edu
East Quad, front lobby
701 E. University Ave.
Ann Arbor
,
Michigan
48109