0000017d-4e0c-dda1-a7fd-4fde73920000
Washtenaw Dairy Turns 85 And Celebrated For Much More Than Ice Cream & Donuts
Known for serving huge scoops of ice cream and homemade donuts, an Ann Arbor business is about much more than the food that they serve and sell.
89.1 WEMU's Lisa Barry has the "scoop" on Washtenaw Dairy as it celebrates its 85th anniversary.
Where whipped cream is sprayed on sundaes, and milkshakes are mixed in the blender, generations of customers have been visiting Ann Arbor's Washtenaw Dairy on South Ashley street on the city's old west side since 1934.
Currently owned by Mary "Dairy" Raab and her husband John, what started out as an Ann Arbor milk manufacturer when dairy farmers brought milk and it was bottled in the back is now known as a community gathering place that serves huge scoops of ice cream and donuts--lots of donuts, as they typically make 100 dozen per day.
Raab says the Washtenaw Dairy stopped making its own ice cream back in 1965 but is still a re-distributor of dairy products to local businesses who don't have as much storage space as they do in a building which was originally used to manufacture pharmaceutical products and later turned into a car repair shop.
That's when the building was first built in 1910 and is a reminder of when businesses were located in neighborhoods, according to Raab.
She says Washtenaw Dairy is "legendary" for its community building and memory making as a lot of graduations and family celebrations and even engagements have taken place there, adding a University of Michigan student even wrote her Ph.D thesis on the place!
Gary Weeks graduated from Pioneer High School in Ann Arbor 40 years ago and visited often when he was a child. He now brings his granddaughters Reagan and Madison for a fourth-generation ice cream eating experience in the same place where it first opened 85 years ago.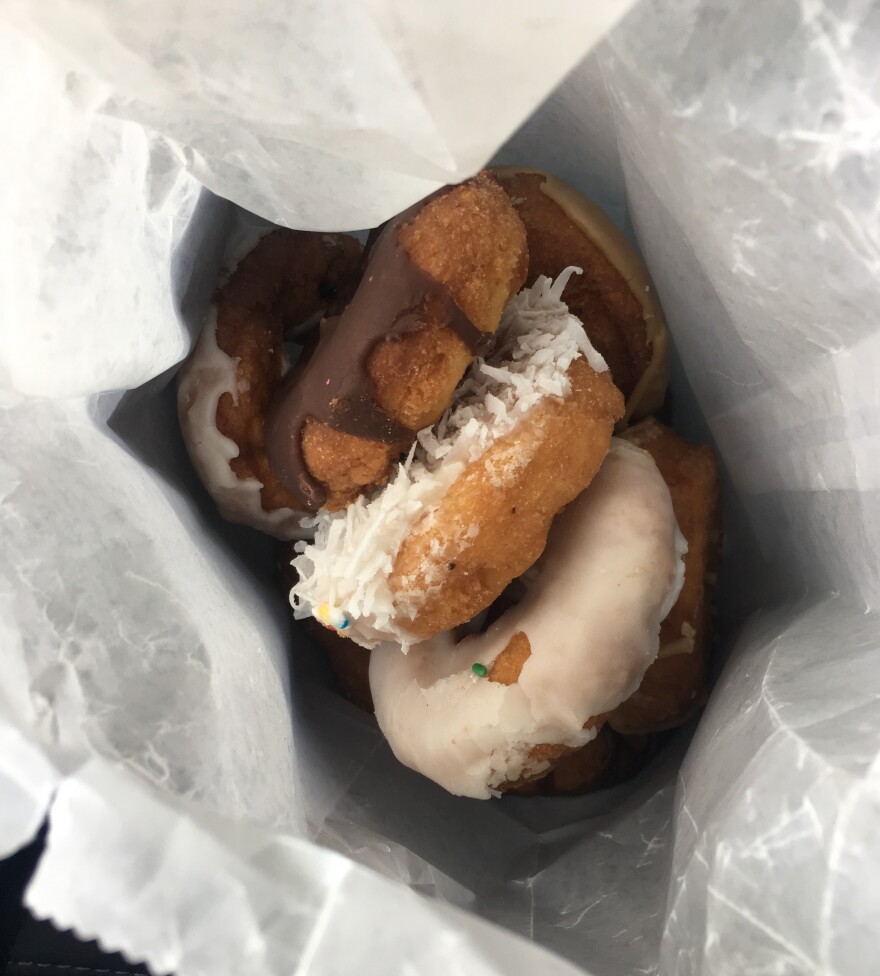 Raab says Washtenaw Diary is one of the first "third places" where people came to gather--home, work, and someplace else. And this was that someplace else before coffee shops became popular.
Clifford Clarke was a tenured Wayne State University professor until he got sick: He's been spending several hours a day at Ann Arbor's Washtenaw Dairy, six days a week since 1981! He says it is like therapy for him.
Raab grew up around the Washtenaw Dairy as her uncle Doug Raab was a former owner, along with Jim Smith II. That feeling of family extends not only to customers but to the people who work there as well. Bradley Smith is a student at Eastern Michigan University. This is his 9th consecutive Summer working at Washtenaw Dairy. Smith said he just missed celebrating Washtenaw Dairy's 75th anniversary by one year but is looking forward to taking part in a community block party planned for the Fourth of July with live music and food from 11 until 2.
In preparation, the store is decorated with about a hundred handmade birthday cards from the community…
Back to the statement that Washtenaw Dairy is legendary.
Now I get it….Legend-Dairy!

Non-commercial, fact based reporting is made possible by your financial support. Make your donation to WEMU today to keep your community NPR station thriving.
Like 89.1 WEMU on Facebook and follow us on Twitter
— Lisa Barry is the host of All Things Considered on WEMU. You can contact Lisa at 734.487.3363, on Twitter @LisaWEMU, or email her at lbarryma@emich.edu