Modern Aging: How To Figure Out What's Next!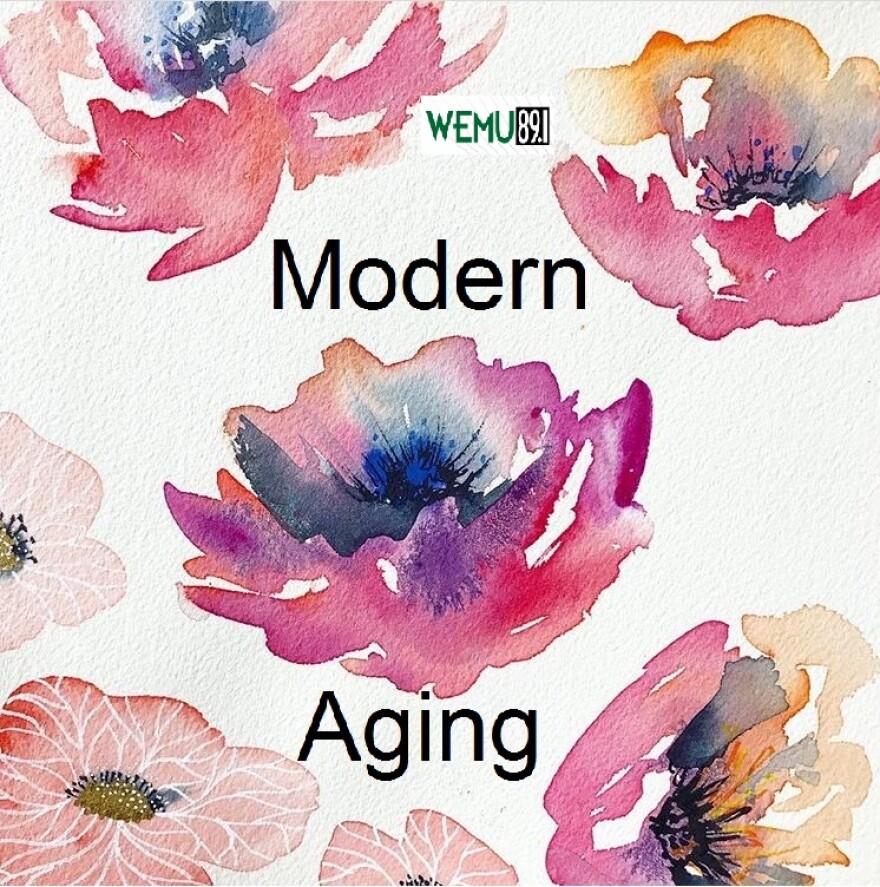 We're aging at every stage of life, but as we get older, the challenges change. This week on "Modern Aging," WEMU's Lisa Barry and Dr. Theresa Reid talk about overcoming "ageist assumptions" and how to figure out what comes next!
What's Next in the Aging Process?
Roles routinely change as we get older: kids move away, jobs end or change drastically, we might not be able to do everything physically we once did. All these changes ask the question, "What next?" This question can be uncomfortable; it is a vulnerable position to be in.
But you can flip the script and see these changes as an opportunity for self-reinvention, for rediscovering, or revising, your sense of purpose in life. Many of us, as we're working and raising our kids, are too busy to pay attention to a larger purpose; in fact, we can use that busy-ness to avoid the question altogether. Grab this opportunity to discover the purpose that will drive your fulfillment and contribution for the rest of your life. The author Richard Leider calls this a "purpose quest."
Our brains are incredible. They continue to grow and change throughout life. We're never out of potential.
Purpose is your answer to "Why do I get up in the morning?"
People with a strong sense of purpose – especially a sense of purpose bigger than themselves – live longer and are happier and healthier than those who don't. Self-oriented: grow my bank account, improve my tennis game, take up weightlifting to sculpt my body. Nothing wrong with any of these. All good – way better than no purpose. But goals beyond self, like improve the neighborhood playground, read to kids at the school, nurture abandoned animals, heal the environment – these have even more benefits for us. Giving of ourselves is good for us.
How to start?

One simple step: write GROW and GIVE on post-it notes and put them on your bathroom mirror so they're the first things you see in the morning. They remind you of core questions: How will you grow today? How will you give?
Listen carefully to what consistently attracts you, what excites you, what outrages you. What can you do about whatever it is that makes your heart beat faster?
Review your past, harvest the skills, abilities, knowledge – including about yourself – that you've gained from everything that's come before. Where has your joy been? What can you carry forward?
Discover your unique gifts. What do you do naturally? What do you love to do? What would people who know you best say your unique gifts are? How can you carry those gifts forward into new purpose for your life? Remember that you will never occur again; your contribution will be unique. And, you don't have all the time in the world.
Write a purpose statement. It begins, "I get up in the morning to...."
Envision the impact you want to have on the world by living your purpose. Really work on detailed visualization: it's powerful.
Loads of Resources are Available to Help You on Your Purpose Quest
From Gene Cohen, The Mature Mind:
"Let's set the record straight: the developmental impetus for adults at or approaching retirement age is not toward retirement, disengagement, or dimming vigor. On the contrary, the universal Inner Push at this age is the emerging sense of personal liberation. While retirement can catalyze this phase, it is not required to stir up feelings of freedom and exploration."
"This liberation phase can, like adolescence, spark New identity, supported by proliferation of dendrites, which facilitate communication between brain cells and reach their greatest number and density in the hippocampi from early 50s to late 70s. Also, new neurons continue to grow in the hippocampi. Incredible!"
Non-commercial, fact based reporting is made possible by your financial support. Make your donation to WEMU todayto keep your community NPR station thriving.
Like 89.1 WEMU on Facebook and follow us on Twitter
— Lisa Barry is the host of All Things Considered on WEMU. You can contact Lisa at 734.487.3363, on Twitter @LisaWEMU, or email her at lbarryma@emich.edu