Saline Amateur Astronomer Expects Excellent Views Of The Perseid Meteor Showers Peaking This Week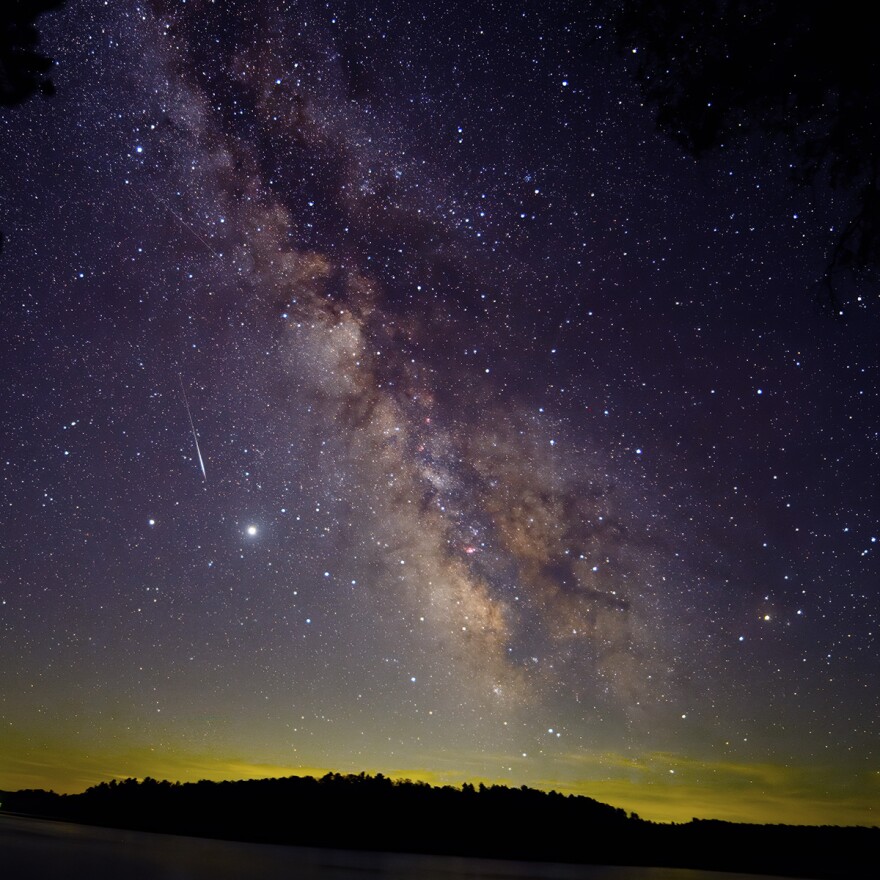 They're considered the best meteor showers of the year, and local amateur astronomer and member of the University of Michigan Lowbrow Astronomers Dr. Brian Ottum says they are peaking later this week. Lisa Barry talks with Dr. Ottum about where and when to view the annual meteor shower which he says should be easier to see this year due to the phase of the moon.
TRANSCRIPTION:
Lisa Barry: Star watchers and sky gazers are getting excited for the annual Perseid meteor shower this week. This is Lisa Barry. Joining us to talk about that is Saline amateur astronomer and member of the University of Michigan Lowbrow Astronomers Dr. Brian Ottum. Good to talk to you again.
Dr. Brian Ottum: Hello. It's great to talk.
Lisa Barry: I am fortunate to know a lot of different astronomers, and, a lot of times, you're kind of cynical about what's happening in the sky. But Brian says he's excited about the Perseids this year. So tell us why.
Dr. Brian Ottum: Yes, unlike a lot of things we see on social media, this one is a real event. And the Perseid meteor shower is the best meteor shower for Michigan for the whole year of 2021.
Lisa Barry: Is it going to be better than usual this year?
Dr. Brian Ottum: No, but it's the best meteor shower of the year. It's going to be good this year. And so, it's a little better than normal because there's no moon. And when there's a moon, it tends to wash out the shooting stars. So, there's no moon, and it's just a tiny little crescent moon. It'll be beautiful, but it'll set and get out of the way. It's not going to be a problem. So, there'll be a lot of meteors to see. And I'm urging folks to get out there and see them.
Lisa Barry: It technically peaks this week.
Dr. Brian Ottum: It peaks, yes. On Thursday, Thursday the 12th. And you got your choice either early, early, early Thursday morning on the 12th, or Thursday evening that night. And, so, both are going to be good. And I'm urging folks. Just pick the one where the weather is better. If it looks clear Thursday morning, go for that, or for Thursday night and the overnight to the 13th. Go out then.
Lisa Barry: For some people, night is morning and morning is night. So can you give us some actual hours that you're talking about?
Dr. Brian Ottum: Meteors are better the later you go because the windshield of your car has more bugs than the back window of your car ,and the earth is heading into the meteors better towards dawn. So if you can, like, three a.m. to five thirty a.m. on Thursday the 12th is the best time.
Lisa Barry: And you've been seeing some already, have you not?
Dr. Brian Ottum: Oh yeah. Been seeing them there. They're white and yellow. And some of them are fireballs, meaning they're bright. It's probably the best meteor shower, NASA says, for these fireballs--these bright meteors.
Lisa Barry: And where in the sky are we looking?
Dr. Brian Ottum: Well, that's the great thing about meteor showers. There's no one place. What I urge people to do is get out there where it's dark, meaning away from city lights if you can, and just lay down on a blanket or something that's so warm and dry, and look up. No equipment required. You just look straight up to just have an open horizon, try to get away from trees, and you'll see them.
Lisa Barry: Say it's 10:00 or 11:00 at night, and you happen to be in somewhere where it's dark. Could you see him that early?
Dr. Brian Ottum: [Definitely. When the sun goes down, you can still see them. They will be good--this whole week, actually. So I'm just saying that the peak is Wednesday night, all night and Thursday night all night. So, but it's going to be visible. You'll see them throughout the week. They're starting already. And NASA has a fireball network of cameras. And they've been telling us, "Yep, we are seeing them."
Lisa Barry: You have a camera. You have a telescope in the desert in New Mexico. Is that correct?
Dr. Brian Ottum: Yes. I have a remote control telescope down in the desert, and it takes good pictures of deep space things, but it doesn't take good pictures of close-up things, like meteors, because you need the whole sky in a wide angle. And so, I'm not able to get meteor pictures there. But, here in Michigan, people can get meteor pictures and even the new phones have astrophotography mode.
Lisa Barry: Oh, really.
Dr. Brian Ottum: You can get them on a tripod. You can be taking like time lapse videos. Just keep on taking pictures for five minutes at a time.
Lisa Barry: Speaking of watching the sky, I know, a few weeks ago, we were seeing some funky sunsets and sunrises, due to smoke due to the wildfires out West. Is that continuing, from what you can tell?
Dr. Brian Ottum: Yes, there are smoke maps that you can find online. And, sadly, it is. It's still continuing right now. It's abated just a bit, but there are plumes coming across the whole plains and into the Midwest. And so, we're going to see more smoke. And, depending on Thursday, if there is a big batch of smoke overhead, it might diminish the meteors a little bit, but it certainly won't eclipse them.
Lisa Barry: As a so-called amateur astronomer, but I think you have a lot more astronomy experience than most of us, it's been such a rainy summer and not a lot of clear nights. There have been lately. But up till this past week or two, it seems like it hasn't been very clear at night in. We're seeing planets, what's up in the sky that we can notice right now?
Dr. Brian Ottum: You're right. It's been a challenging year. We've had so many cloudy nights. And then, when it was clear, especially in July, early July, we had so much smoke, it was just hard to see anything. But now we're having Saturn and Jupiter coming up in the evening, and they're spectacular coming up in the southeast. And I highly recommend folks to look at those, too. Even with binoculars, you can see the four moons of Jupiter, and it's way cool. So, yeah, we got we have some planets. And just after the sun goes down in the West, you can see Venus. So, it's a good time for planets this summer.
Lisa Barry: Dr. Brian Ottum, we will look forward to the Perseid meteor showers. And we're always grateful for you sharing all this information with us here on 89-1 WEMU.
Dr. Brian Ottum: Thanks. It's been fun.
Non-commercial, fact based reporting is made possible by your financial support. Make your donation to WEMU today to keep your community NPR station thriving.
Like 89.1 WEMU on Facebook and follow us on Twitter
— Lisa Barry is the host of All Things Considered on WEMU. You can contact Lisa at 734.487.3363, on Twitter @LisaWEMU, or email her at lbarryma@emich.edu