creative:impact-Bank Of Ann Arbor Investing In Local Arts And Culture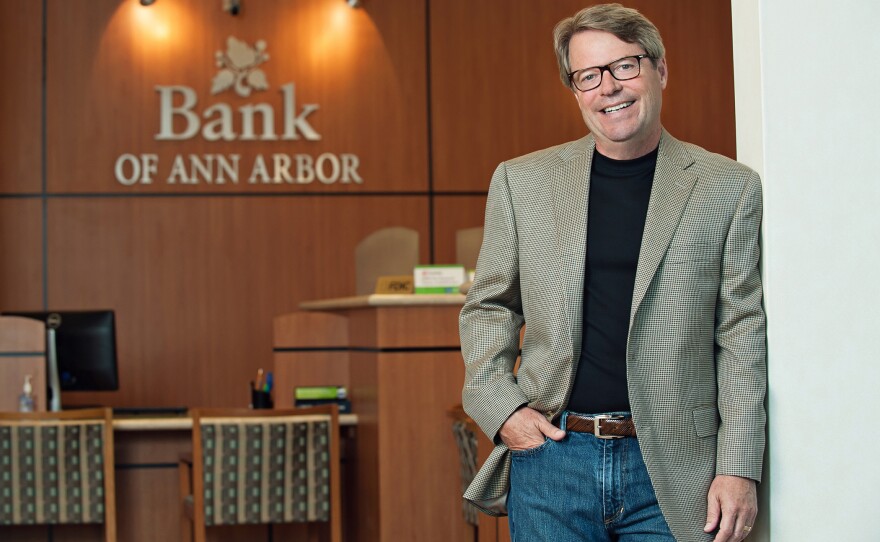 Tim Marshall, president and CEO of Bank of Ann Arbor
Bank of Ann Arbor
At Sonic Lunch stage
Bank of Ann Arbor
Enjoying music at the Sonic Lunch Concert Series
Bank of Ann Arbor
Enjoying music at the Sonic Lunch Concert Series
Bank of Ann Arbor
Dancing at the Sonic Lunch Concert Series
Bank of Ann Arbor
Over the years, Bank of Ann Arbor has become the 2nd largest bank in Ann Arbor. As the institution has grown, so has its investment in local music, art and cultural institutions. There are now more than 30- such entities getting bank support from a pool of more than $5 million. And, the president of the bank says that number will grow in the years to come. In this week's edition of WEMU's 'creative:impact,' Tim Marshall explains why he believes corporate giving is vital to the area's cultural vibrancy.
Creative industries in Washtenaw County add hundreds of millions of dollars to the local economy. In the weeks and months to come, 89.1. WEMU's David Fair and co-host Deb Polich, the President and CEO of The Arts Alliance, explore the myriad of contributors that make up the creative sector in Washtenaw County.
RESOURCES:
Bank of Ann Arbor Community Support
Non-commercial, fact based reporting is made possible by your financial support. Make your donation to WEMU todayto keep your community NPR station thriving.
Like 89.1 WEMU on Facebook and follow us on Twitter
— David Fair is the WEMU News Director and host of Morning Edition on WEMU. You can contact David at734.487.3363, on twitter @DavidFairWEMU, or email him at dfair@emich.edu