Local Viewing Of Comet NEOWISE Is Peaking Now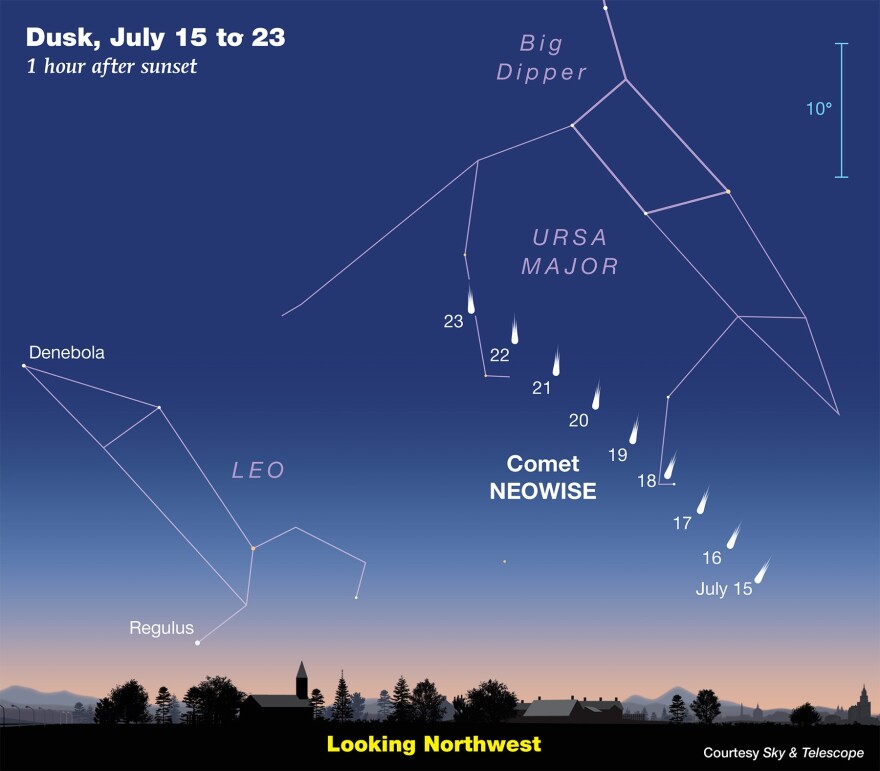 Wednesday, July 22nd is Comet NEOWISE'S closest approach to Earth, then it will slowly move away and be pretty easily viewable for about another week.
WEMU's Lisa Barry checks in with Eastern Michigan University astronomy professor and director of Eastern's Sherzer Observatory Norbert Vance for viewing tips and information about this rare comet appearance in the nighttime sky.
Sitting 64 million miles from Earth, the recently discovered comet NEOWISE will still be viewable in the northwest sky for about another week. EMU astronomy professor Norbert Vance says it's a "pretty" comet and is easy to spot in the northwest sky shortly after sunset around 10:15pm especially away from city lights. He says to look for it below the bowl of the Big Dipper sooner vs. later and it climbs higher and higher into the night sky.
The comet hasn't been seen from Earth in some four thousand years and is not expected to be visible for another seven thousand years.
Vance says scientists are studying the gasses that come from the comet that is about three miles wide. The comet is headed back out beyond the orbit of Pluto beyond the plain of the solar system.
Non-commercial, fact based reporting is made possible by your financial support. Make your donation to WEMU today to keep your community NPR station thriving.
Like 89.1 WEMU on Facebook and follow us on Twitter
— Lisa Barry is the host of All Things Considered on WEMU. You can contact Lisa at 734.487.3363, on Twitter @LisaWEMU, or email her at lbarryma@emich.edu