0000017d-4e0c-dda1-a7fd-4fde73920000
Local Glass Artist Gives Away "Gratitude Glass" To Help Boost The Community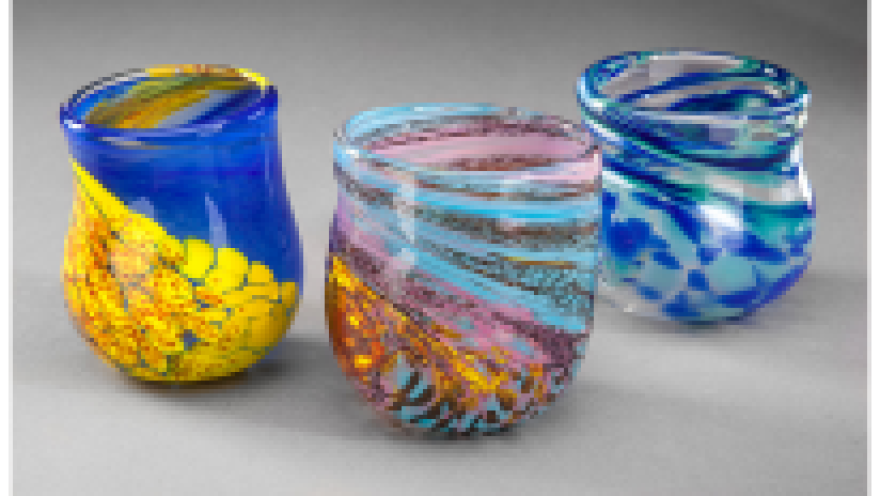 Larry Nisson is a former psychotherapist who has been making glass art in Ann Arbor for over 30 years. He decided a few months ago to commission local glass artists to make glass art, so he could give it away to local nonprofits to "anchor them in positivity" at this difficult time.
Lisa Barry talks with him about his idea, the inspiration behind it, and the reaction to his glass art giveaway.
0000017e-446d-d7f3-a77f-c66f5a380000
Larry Nisson has welcomed local art lovers into his Ann Arbor home as one of the hosts of the West Side Art Hop for many years. He said he had been thinking about all the challenges people are facing now in a pandemic and what he might be able to do to bring some joy and healing to their lives. He decided as a glassblower to commission local glass artists to make "gratitude glasses" to help them remember what they are grateful for, even in difficult times.
He says he has handed out over 700 pieces of glass art to nonprofits in the Washtenaw County area and hopes to continue to do so. He has paid for it all himself.
Nisson says gratitude is a way to deal with the challenges in life. He said he includes a little card with each piece of glass art he gives away, which says, "When you drink out of the glass, please think about what you're grateful for in your life. Doing so on a regular basis will build your gratitude muscle and will improve your mental and emotional health."
If you know of a local nonprofit or volunteer group that may be cheered by some gratitude glass, you can email Larry Nisson at lnisson@comcast.net. You can also check out his website and see videos of Nisson's work.
Non-commercial, fact based reporting is made possible by your financial support. Make your donation to WEMU today to keep your community NPR station thriving.
Like 89.1 WEMU on Facebook and follow us on Twitter
— Lisa Barry is the host of All Things Considered on WEMU. You can contact Lisa at 734.487.3363, on Twitter @LisaWEMU, or email her at lbarryma@emich.edu