0000017d-4e0c-dda1-a7fd-4fde73920000
Cinema Chat: 'The Lovers,' 'Frantz,' 'Alien: Covenant,' And More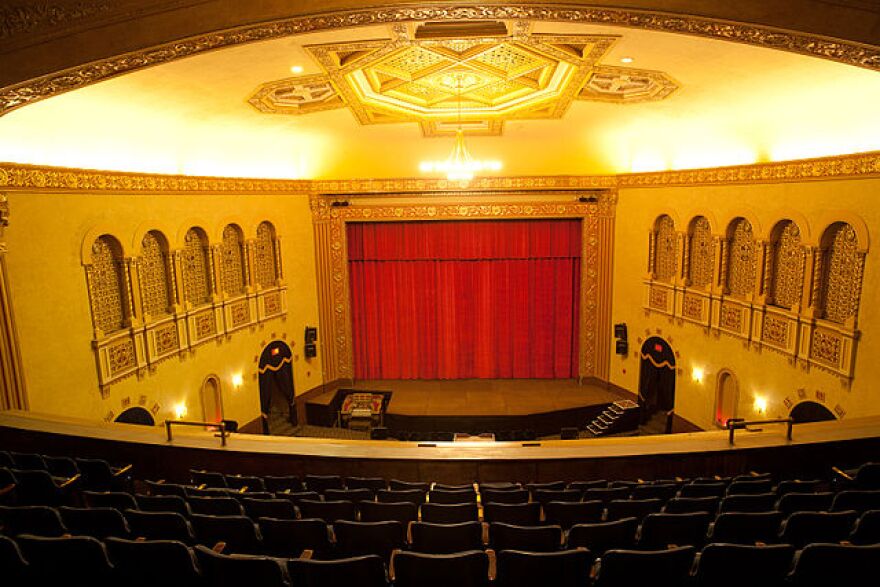 In this week's "Cinema Chat," WEMU's David Fair speaks to Michigan Theater executive director Russ Collins about the movie business and all of the films you can check out at your local theater this weekend. Plus, get the latest details on this year's Cinetopia Film Festival.
Cinetopia Tickets On Sale Now!
Tickets for the Cinetopia Film Festival are on sale now! Cinetopia runs June 1-11 in Ann Arbor, Dearborn, and Detroit, and will feature over 60 fantastic films direct from the world's best film festivals, including Sundance, Toronto, Venice, Tribeca, and Cannes. Review the schedule and get your tickets now!
Opening Downtown
This is a refreshing, funny look at love, fidelity, and family, starring Debra Winger and Tracy Letts as a long-married and completely dispassionate husband and wife. Both are in the midst of serious affairs and are increasingly committed to their new partners. But on the brink of officially calling it quits, a spark between them suddenly and unexpectedly reignites, leading them into an impulsive romance that forces them to navigate the hilarious complications of "cheating" on their respective lovers. A mixture of humor and powerful emotion, the story is a uniquely honest take on modern marriage. "The Lovers" opens Friday.
Set in Germany and France in the immediate aftermath of the First World War, this film recalls the mourning period that follows great national tragedies through the eyes of Anna, a bereft young German woman whose fiancé, Frantz, was killed during trench warfare, and Adrien, a French veteran of the war who shows up mysteriously in her town, placing flowers on Frantz's grave. What follows is a surprising exploration of how the characters wrestle with their conflicting feelings – survivor's guilt, anger at one's losses, the overriding desire for happiness despite everything that has come before, and the longing for sexual, romantic and familial attachments. "Frantz" opens Wednesday, May 24.
Continuing Downtown
The year is 1940, London. With the nation bowed down by war, the British ministry turns to propaganda films to boost morale at home. Realizing their films could use "a woman's touch," the ministry hires Catrin Cole (Gemma Arterton) as a scriptwriter in charge of writing the female dialogue. Although her artist husband looks down on her job, Catrin's natural flair quickly gets her noticed by cynical, witty lead scriptwriter Buckley (Sam Claflin). Catrin and Buckley set out to make an epic feature film based on the Dunkirk rescue starring the gloriously vain, former matinee idol Ambrose Hilliard (Bill Nighy). As bombs are dropping all around them, Catrin, Buckley and their colorful cast and crew work furiously to make a film that will warm the hearts of the nation.
Special Screenings Downtown
"Homeward Bound: The Incredible Journey"
Chance, a young dog unfamiliar with the world, Shadow, an aging, wise dog, and Sassy, a snobby cat, are left behind when their family goes on vacation, leading the animals to mistakenly believe that they have been abandoned by their loved ones. Unsure of what happened, the animals set out on a quest to find their family. Featuring the voices of Michael J. Fox, Sally Field, and Don Ameche, "Homeward Bound: The Incredible Journey" plays Saturday, May 20 at 11:30 AM as part of the Toyota Family-Friendly Film Series. Free admission for kids 12 and under!
"A New Color: The Art of Being Edythe Boone"
This film follows Boone, a Bay Area social justice muralist, as she creates change through art – the theme of this evening benefiting the five Michigan Medicine programs of Big Hearts for Seniors. Boone and the documentary's producer, Mo Morris, will join the audience for a Q & A via Skype. "A New Color: The Art of Being Edythe Boone" plays Thursday, May 25 at 7 PM.
CINEMA REVOLUTION: Independent Films That Defined A Genre
This spring, Cinetopia Film Festival and Ann Arbor's Michigan Theater will celebrate the glory days of Art House cinemas with a new film series: Cinema Revolution: Independent Films That Defined a Genre. The eleven film series captures the spirit of cinematic revolution—a revolution that disrupted the Hollywood Studio system, created contemporary foreign film culture and brought to light visionary American directors and new generations of cinematic voices.
Done -THE MID-CENTURY ART HOUSE - 1960-1969 – Breathless, Fellini's Satyricon, Putney Swope
Done - CAMPUS CINEMA GLORY DAZE – 1970-1979
4/17 - 4:30 – Citizen Kane (1941 – Art cinema icon of Hollywood days)
4/17 - 7:00 – Day For Night (1973 – Nouvelle Vauge's influences & influence)
4/24 - 7:00 – A Woman Under The Influence (1974 - John Cassavetes, American's seminal Independent)
5/1 - 7:00 – Harlan County, USA (1976 Barbara Kopple's documentary)
INDIEWOOD – ART HOUSE MOVIES FIND A GROOVE - 1980-1993
5/8 - 7:00 – The Brother from Another Planet (1984 – John Sayles)
5/15 - 7:00 – A Room with a View (1985 – James Ivory – Ideal Art House shining moment)
5/22 - 7:00 – My Own Private Idaho   (1991 - Gus Van Sant)
This film features River Phoenix as Mike, a narcoleptic male hustler who is first seen drifting on a stretch of highway in Idaho. Mike shifts from Seattle to Portland, where he has taken up with Scott (Keanu Reeves), who is also a hustler. The difference between them is Mike's sleepy state betrays an uncertain future, while Scott is ready to inherit a fortune from his father within a week. Mike feels a real affection for Scott, but Scott is mostly hustling as a means of slumming and killing time before he inherits his money. Mike, however, delusionally thinks Scott will continue with his life as a drifter after receiving his inheritance. Loosely based on Shakespeare's Henry IV Parts 1 & 2 and Henry V and directed by Gus Van Sant, "My Own Private Idaho" plays Monday, May 22 at 7 PM. Presented as part of the Cinema Revolution film series.
5/29 - 7:00 – The Player (1993 - Robert Altman; Archive connection– Hollywood's shallow side and Art House shining moment)
Opening at the Multiplex
Director Ridley Scott returns to the universe he created with a new chapter in his groundbreaking "Alien" franchise. The crew of the colony ship Covenant, bound for a remote planet on the far side of the galaxy, discovers what they think is an uncharted paradise, but is actually a dark, dangerous world. When they uncover a threat beyond their imagination, they must attempt a harrowing escape. "Alien: Covenant" opens Friday.
A teenage girl (Amandla Stenberg) is unable to leave her home because she has an immunodeficiency that makes her allergic to almost everything. However, her life changes for the better when she begins to communicate with the boy next door (Nick Robinson). "Everything, Everything" opens Friday.
"Diary of a Wimpy Kid: The Long Haul" 
Based on the record-breaking book series, a family road trip to attend Meemaw's 90th birthday party goes hilariously off course--thanks to Greg's newest scheme to (finally!) become famous. "Diary of a Wimpy Kid: The Long Haul" opens Friday.
Non-commercial, fact based reporting is made possible by your financial support. Make your donation to WEMU today to keep your community NPR station thriving.
Like 89.1 WEMU on Facebook and follow us on Twitter
— David Fair is the WEMU News Director and host of Morning Edition on WEMU. You can contact David at 734.487.3363, on twitter @DavidFairWEMU, or email him at dfair@emich.edu